The Evo 270-1 is the latest model of the most popular of heat pump hot water system that is made by EvoHeat.
It is a multiple award winning brand and is consistently reviewed positively by satisfied customers.
Like most other appliances, an increased focus on energy efficiency over the past over the past 20 years has led to significant advancements in hot water systems. So don't just replace it with what you've always had – REPLACE IT WITH SOMETHING BETTER! The EVO 270-1 is the next evolution in water heating, with advanced energy efficiency technologies and built in smart features to ensure you're provided with clean, safe, and economical hot water all year round. Unlike traditional hot water systems that use 1kW of energy to produce 1kW of heat, the EVO 270 utilises that very same 1kW of energy and heat pump technology to generate 4kW of heat – saving you up to 75% of your hot water costs!
Below is some additional information on the EvoHeat 270-1.
EvoHeat 270L (EVO270-1) Wins Another Product Review Award
The EVO270-1 has won the 2021, 2020 & 2019 hot water productreview.com.au award for three consecutive years, after being recognised by Australian consumers for its advanced energy efficiencies and smart features.
Customer reviews have highly rated the EVO270-1 for aspects such as build quality, temperature consistency, heating speed and value for money.
We provide sales, installation, servicing and repairs to all models of EvoHeat Hot Water Systems to our customers throughout Brisbane, Gold Coast and Tweed Heads.
Please contact us for your EvoHeat Hot Water System enquiries.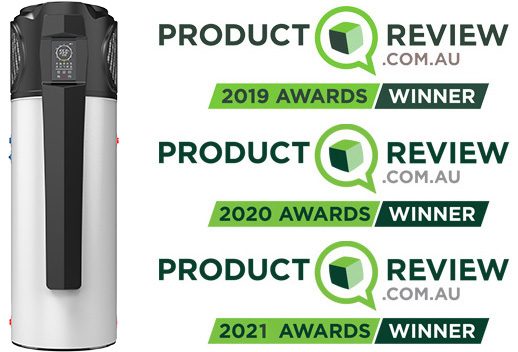 The featured EVO 270-1 reviews below are genuine reviews of EvoHeat product installs performed by Speedy Hot Water Services. They can be found on the productreview.com.au website.
Cost effective and good for the environment!
Steaming hot water. Uses so much less power than other systems. A great value product. I love the easy to adjust temperature and timer functions. Everyone should purchase this product.
Evan C. – South East Queensland
Product installed by Speedy Hot Water
Our old "Conergy" system gave us nothing but trouble over the last 12 months, so having the Evo270 installed was a great relief. Always have hot water and the system just looks great! Installation went without a hitch and we are very happy.
Kylie – South East Queensland
Product installed by Speedy Hot Water
This Saves Alot of Money!
My existing hot water was consuming lot of power , this saves 80% of the power and run in solar power. The installation was quick and services are really excellent. Very good system
Philip – South East Queensland
Product installed by Speedy Hot Water
Evo 270 - Product Use and Review
2020 Product Review Award Winner