You may be paying $1000 a year more than you need on your hot water bill. We can show you how to save up to 75% a year by installing the right type of hot water system.
TO FIND OUT HOW, CALL US TODAY! WE OFFER SAME DAY SERVICE. Ph: 1800 722 458
Our skilled professional hot water specialists perform all manner of licensed hot water system installation and repair work (Plumbing, Electrical, Gasfitting) in the Greater Brisbane Area.
For same day, instant service on your hot water system just CALL US on 1800 898 361.
At Speedy Hot Water Services Brisbane we are available 24 hours a day, 7 days a week with a service area stretching from Far North of Brisbane, down into the Tweed area and Northern NSW.
We install, repair and maintain services for all brands of hot water systems and types including:
Metered Natural Gas
LPG / Propane Cylinder
Heat Pump
Electric Systems
Solar Systems
If you require a quote or Immediate Service or just advice on your hot water system needs just CALL US on 1800 898 361.
Need a price? Complete the online enquiry form below or, for an instant response call us on 1800 722 458 – any time 24/7.
Choosing the Right Hot Water System
Sometimes replacing your existing system with the same type of hot water system can prevent you from obtaining substantial savings on your hot water bill. Recent advances in technology have resulted in more cost effective systems being available to consumers.
The graph below shows a comparison between traditional electric hot water systems and more modern technology.
At Speedy Hot Water Services we pride ourselves on being able to determine the best hot water system to save you money.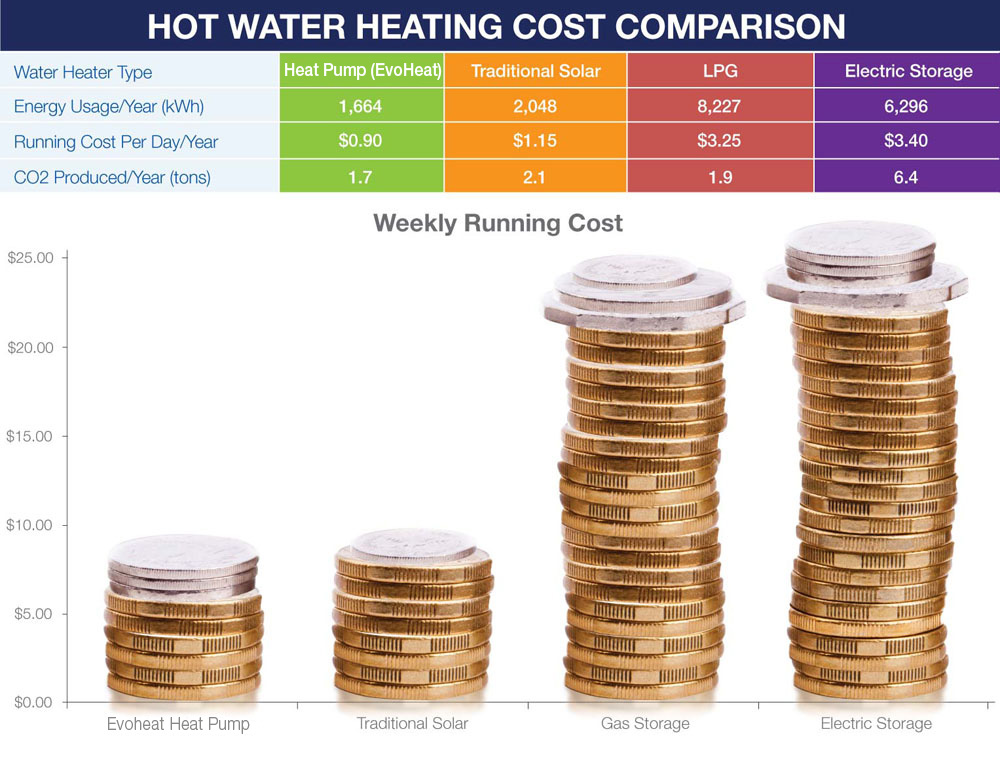 Why Choose Speedy Hot Water?
Professional Installation, Fully Qualified Technicians
When we install a system we know that our reputation is on the line and we want our customers to have peace of mind that their system has been installed to industry standards. Our technicians are fully qualified for Gas, Electrical and Solar Hot Water Systems. We can supply a Certificate of Compliance to prove that your new water heater meets all regulatory requirements.
Customer Service
We make every effort to be reliable, punctual, courteous and professional. We will also take the time to show you basic maintenance techniques to ensure your new water heater can continue to perform at optimum heating levels. After your system is installed we are still available to offer assistance if required.
0$ to pay up-front
We offer 0$ up-front options on certain services. Contact us to find out more.
Pensioner Discounts
We offer special discounts for pensioners. Contact us to find out more.
Free Tank Removal
Speedy Hot Water Services take all of the work out of replacing your hot water system. We not only supply and install the new one; we also remove and dispose of your old system at the same time.
For further enquiries we can be contacted on 1800 722 458.